Kompas Safety Group
Blended FAFS-training with MemoTrainer for long-lasting impact
Kompas Safety Group made a rather startling discovery that one-third of the learners who enrol with them do not even start the course!
With aNewSpring, they managed to bring this percentage down to nine percent. But how? That's what we'll be looking into for this case study.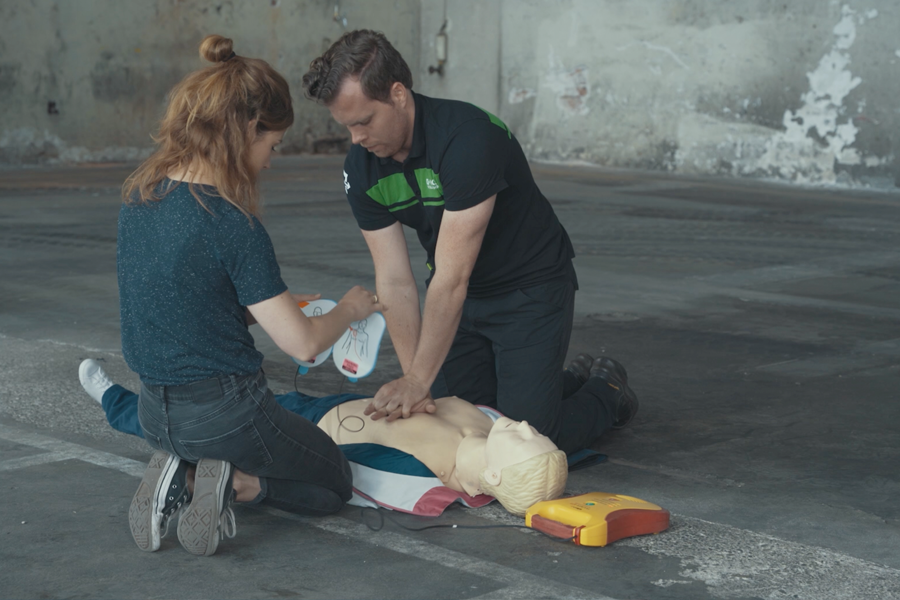 The company
Kompas Safety Group is a major player in the world of safety training. They provide a blended FAFS training.
More about Kompas
Trainees take an e-learning and then apply the knowledge in practice. A big advantage for companies that do this, is that the repeaters only have to follow the practice, while first time learners complete the e-learning beforehand. This way, colleagues can take the practical part together, despite not starting on the same level.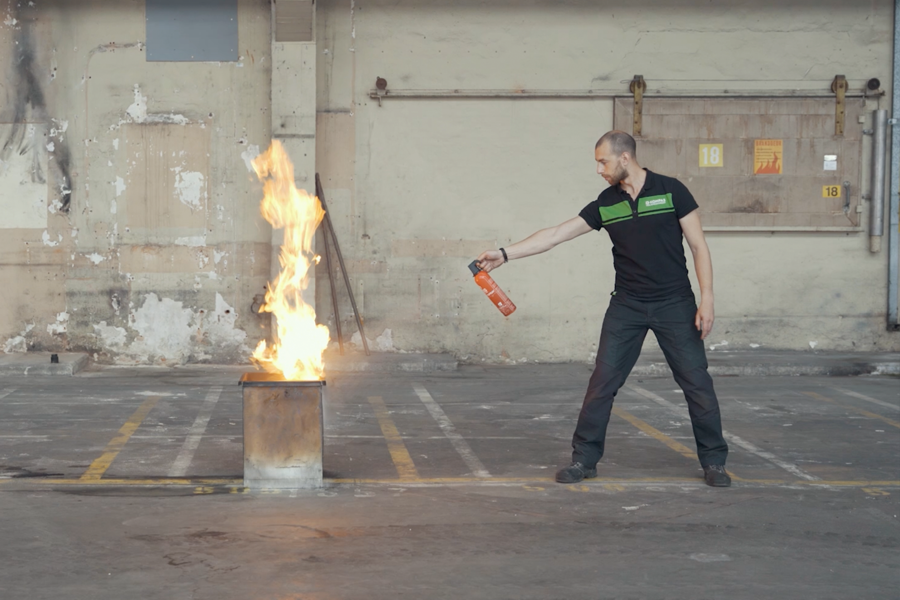 The problem
Pop-up blockers, time-consuming changes and knowledge retention issue
Previously, they used SCORM packages at Kompas. They uploaded it into their own system but soon discovered this did not always work well. That's when they came to aNewSpring, about five years ago. First, they started using the platform in combination with the SCORM packages, but this still gave too many problems.
Marjolein van de Ven, Learning & Development Specialist at Kompas, explains:
"For some participants, the e-learning did not open because they had a pop-up blocker turned on, for example. It was very difficult to explain to those participants how to solve this. Also, the SCORMs had to be exported separately. When something had to be changed in the e-learning, we had to adjust it first and then put it back into aNewSpring. This was very inconvenient."
On top of that, the FAFS course was done once a year. That way, participants kept their certification. However, that meant that participants were not engaged with the course content for most of the year.
"Suppose someone has to be resuscitated 11 months after the course. Most of the information has already faded away. We wanted to avoid that."
Marjolein van de Ven

, Learning & Development Specialist at Kompas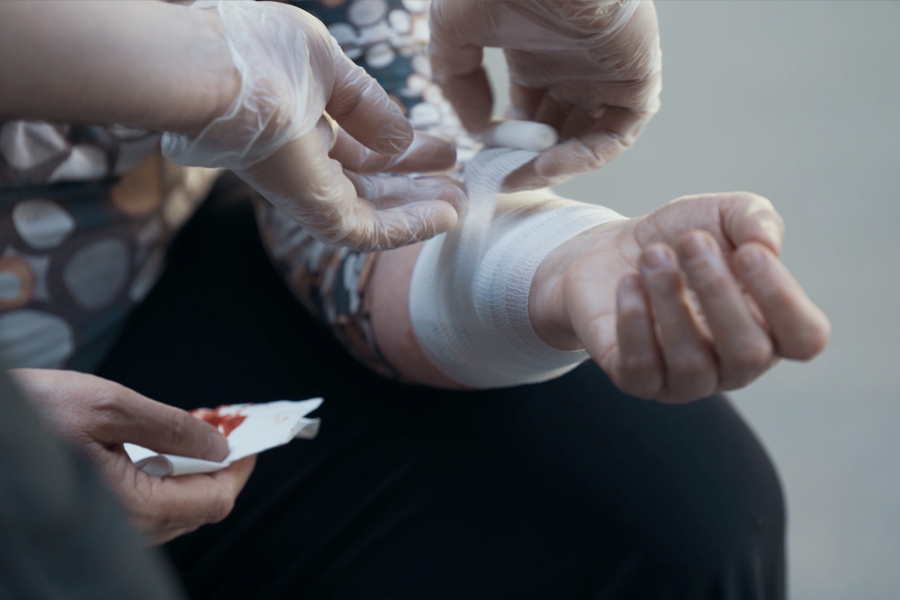 The solution
Upload content directly and add functionalities for knowledge retention
Kompas decided to look at these challenges together with aNewSpring. From then on, they decided to put all content directly onto the aNewSpring platform. Marjolein: "That was a good decision. We now put everything into content libraries on the platform and if there are changes, we only have to make them in one place."
Brainstorming together about the customer journey and learning experience
They were off to a great start but Kompas wanted to innovate further and differentiate themselves from competitors who also appeared to be using aNewSpring for their training. Roy (Customer Success Manager) and Stefan (Chief Customer Officer) therefore organised a workshop at Kompas to brainstorm on an 'out of the box' solution together.
For this, we took a step back from the functionalities of the platform and first looked at the customer journey and the learning experience that Kompas offered. After all, improving training goes beyond just the platform. Back office operations, communications to customers and creating the right mindset among participants, all play a vital role as well.
New insight: participants do not start the course
During this workshop, an important challenge came to light: one-third of the people who enrolled actually ended up not starting the course!
"We made the entire flow clear. Which contact points does the student encounter and at what stage might they drop out? Together with aNewSpring, we made that concrete. Then we started making improvements. This included adapting the emails with a more active writing style and making the design more attractive. We also set up the system in a way that students who do not complete the e-learning don't receive a certificate and their employer can see this. Thus, we tightened up the whole flow."
From then on, Kompas became even more successful with their platform. In the last course year, they trained 20.000 participants in aNewSpring, and they started adding more and more features to their training. From the MemoTrainer to adaptive learning and making a connection with their CRM system. They're now what we call an advanced user of the aNewSpring platform.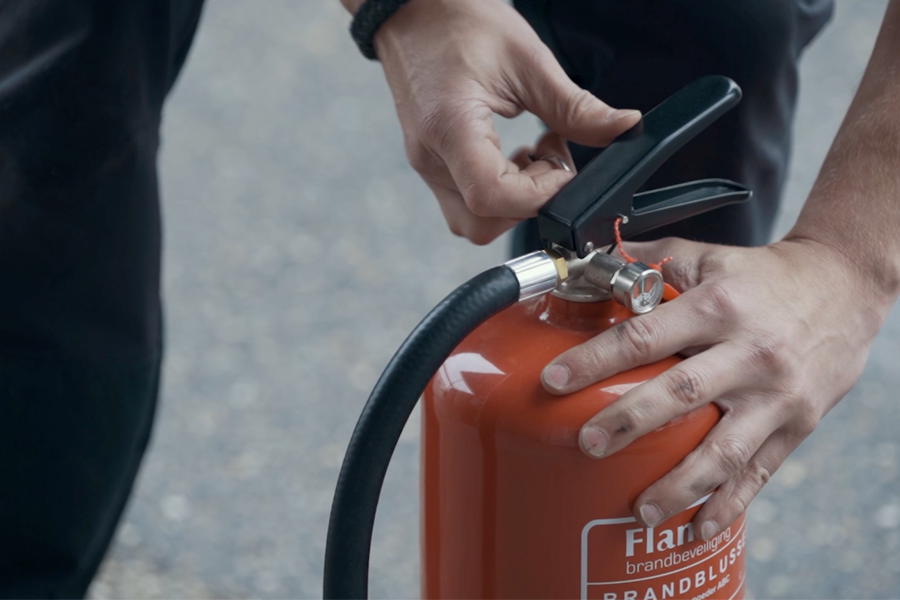 The results
Many more participants now start the course and stay engaged with safety
Kompas went to work with the recommendations, made the changes and started measuring the results. And with success: they went from 25 to 33 percent students not starting the training to just 9 percent!
"We are told by course participants that we have improved the e-learnings considerably over the past few years," says Marjolein.
A selection of the anonymous feedback from learners is a clear indication of this sentiment too:
"The e-learning exceeded my expectations, as I already did the course a few years ago. Now, it was more user-friendly and the content was more substantive and comprehensive, and overall more effective."

"Clear explanations and the alternation between text, videos and questions works nicely. The knowledge test at the end covers all the topics."

"I found the e-learning prior to practising very useful. The e-learning was more comprehensive than I expected. All colleagues were prepared and had an equal, minimum basic knowledge. This made the practical lesson run smoothly."
"It's nice that we have an external sparring partner that can help us with ideas on how to improve our trainings. aNewSpring is always working on innovation and new trends, and takes us up on that."
Marjolein van de Ven

, Learning & Development Specialist at Kompas
MemoTrainer in the standard package
The MemoTrainer is now in the standard package for Kompas students. This has many advantages, according to Marjolein. "It ensures that we see course participants come back more often, and they remain conscious of safety. For example, after three months they receive a reminder: 'Do you remember how to put someone in the stable side position?' Or 'How do you turn someone from their stomach to their back?' It is precisely that kind of repetition that ensures that the knowledge sticks and does not fade away during the year."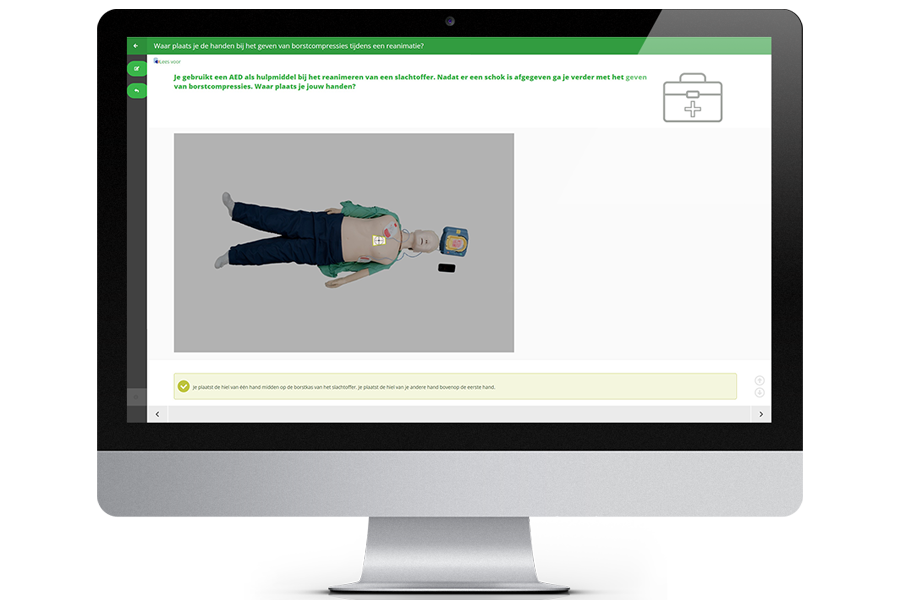 Next steps
Industry-specific training and continuous improvement
The new course year has just begun at Kompas, but they are already bursting with ideas for next year. For example, they would like to make the e-learnings industry-specific.
"We now have a standard e-learning for all FAFS officers, but safety problems in the hospitality industry obviously differ from those in healthcare. The same topics, such as extinguishing a fire, still apply.
But in the hospitality industry, for example, it is important to know what to do in the event of a frying pan fire, while in health care evacuation of people who aren't mobile is more applicable. Therefore, starting next year, we want to train participants more by being industry-specific."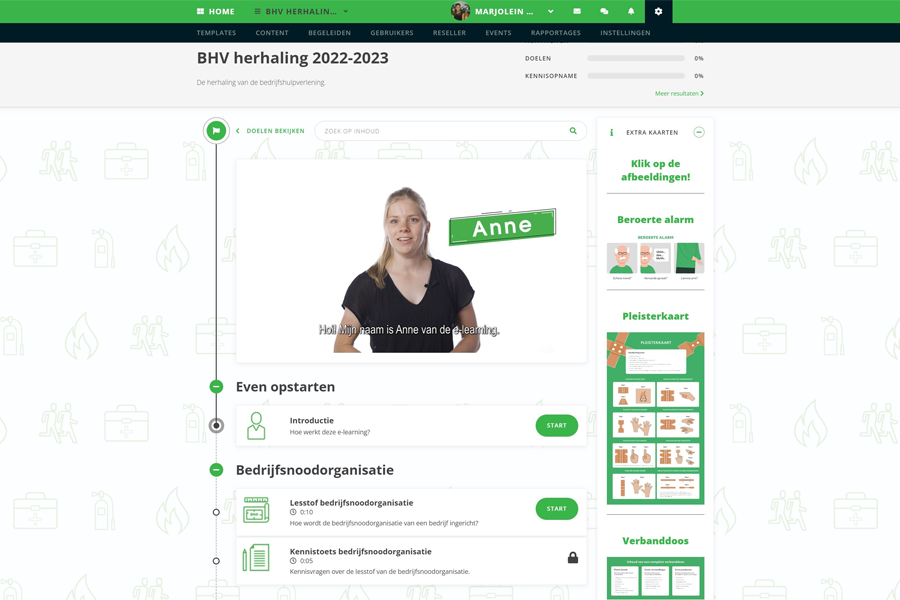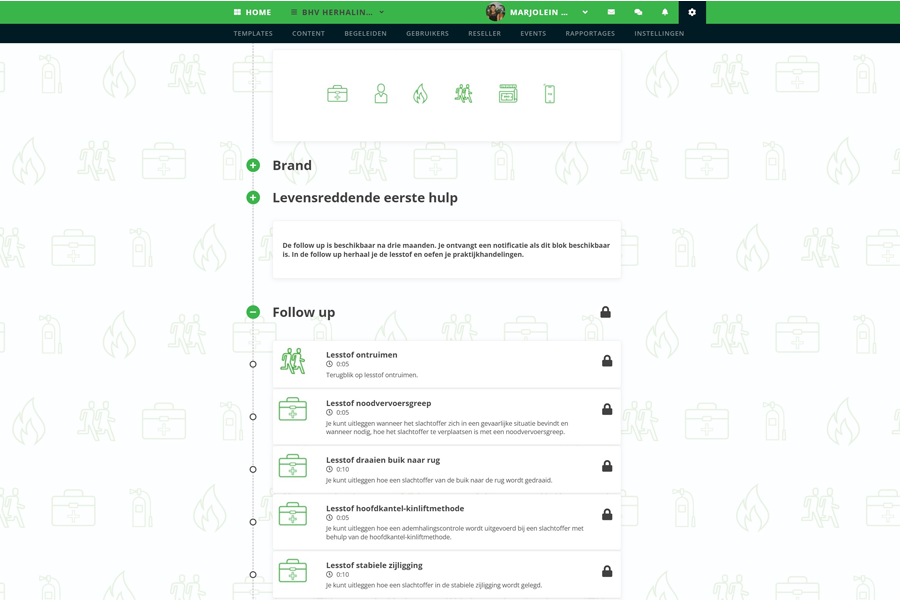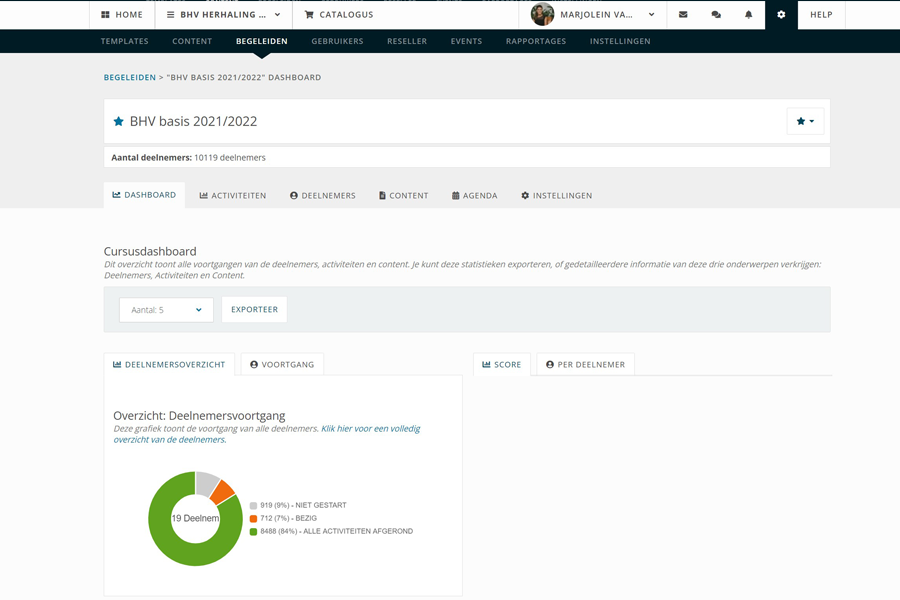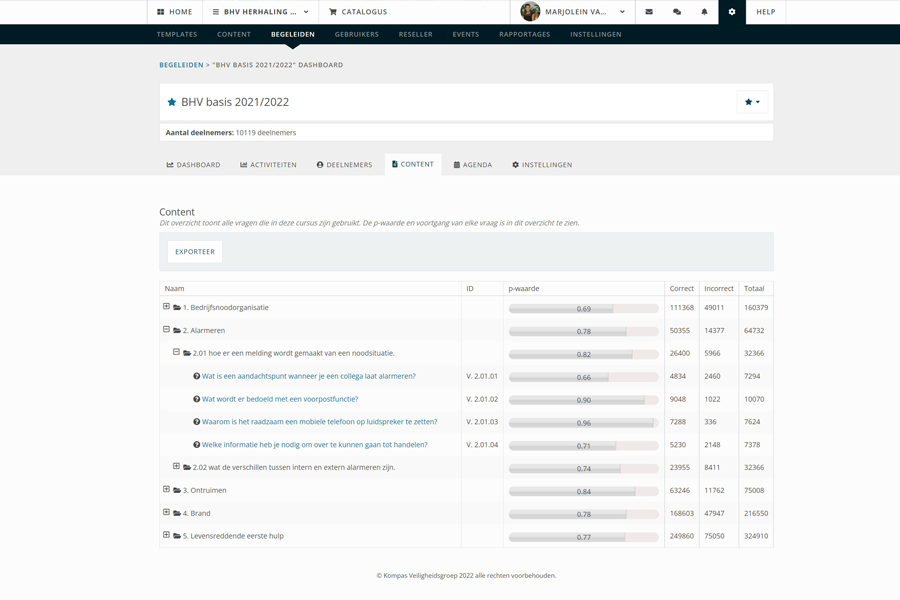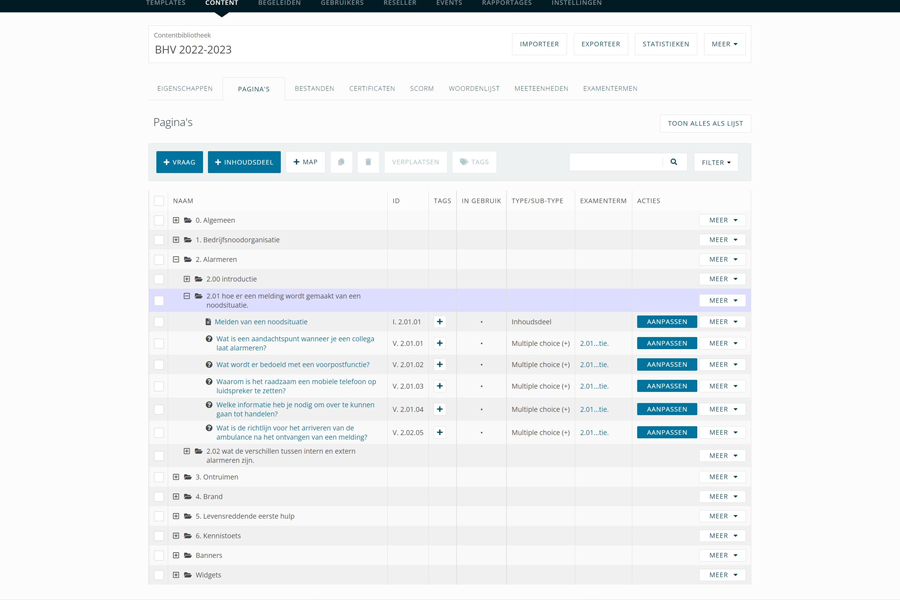 In addition, Marjolein shares that Kompas is continuously evaluating and improving their courses.
"We monitor how often questions are answered correctly or incorrectly. If the data show that a question is often answered incorrectly, then perhaps the question is too difficult, or we did not include the answer correctly in the explanation. We can then investigate that. This way, we stay sharp on our own questions, which I really think is a benefit of aNewSpring."