Blended in the Benelux: how they do it in Flanders
21 December, 2021
| Kelly Rijsterborgh
| 5 min read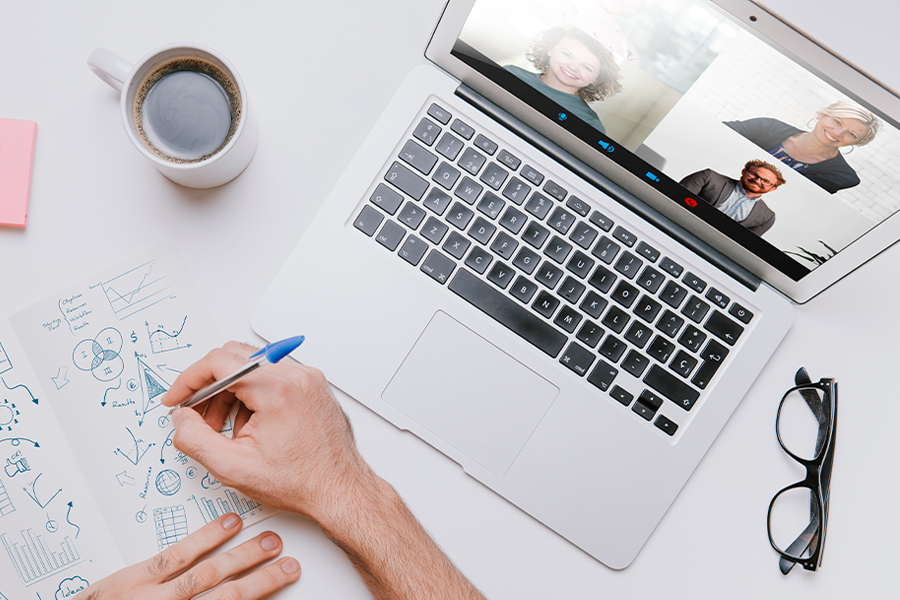 This past year was all about being flexible. It has been difficult sometimes, but thankfully, it also resulted in some positive developments within the training sector. A good example is visible in Flanders. Blended learning seemed to be the unpopular option there for a while, but not anymore: a lot of training and course providers have been experimenting with the possibilities online.
The result? A range of ways to successfully use blended and hybrid learning. Three training providers from Belgium and the Netherlands gave us some useful insights. They all work for completely different companies, but have one thing in common: they work with the aNewSpring learning platform. Let me introduce them to you:
Amelior
From 'quick and dirty' to structured and well planned, Amelior has started their blended learning adventure fairly recently but made some big steps this year. The company is getting better and better at finding the right balance between online and offline.
"The fun thing about the blended way is that it gives you the opportunity to put the focus differently in the physical learning environment," shared Ruben Baes, HSE Training and Education Manager at Amelior. Face-to-face interaction between trainers and learners always plays an important role in their courses. That is why Amelior sees the online part as an addition to their physical classes.
Is it a consultancy or training company? Amelior is both! The organisation offers advice and over 180 different courses, from project management to prevention and security. With experienced trainers and personal guidance, Amelior knows how to help learners grow.
heydays" academy
The use of blended learning is not new to heydays" academy. Here, the physical classes are also seen as the base. This organisation uses the online platform to make sure the course suits the learners and their needs.
Or, as Elke van Parys, Manager at heydays" academy, said so beautifully: "to satisfy everyone's appetite." Preparation, aftercare and extra assignments play an essential part in this.
Although they have successfully implemented blended learning already, heydays" academy is not done experimenting yet. Currently, the company also offers stand alone e-learning courses. Besides that, there are tons of plans to expand their online learning possibilities in 2022.
heydays" academy offers language and communication courses to companies and organisations. With a wide range of online and offline (and of course blended) courses, their team knows how to guide participants in their development. And they do that with a smile!
GITP
GITP is also no stranger to the blended learning method. According to Jet Zantvoord, the company's Learning Developer, this resulted in a smooth switch from offline to online during the pandemic.
By acting swiftly, they were able to transform their courses within a short period. And more importantly, the organisation did it successfully! With one of their courses, GITP ended up winning the aNewSpring Awards 2021. Read more about that inspiring learning journey on our website.
GITP's big goal is to discover and develop talent within organisations. The company does this by doing assessments, giving training and creating fitting learning journeys. Excite, motivate and confront are important keywords that describe the way they work.
Wise lessons from the experts
These companies show that blended learning can be implemented in various ways. The experts were able to share some wise lessons that are relevant for every (future) user of this method.
Lesson #1
Choose an accessible tool
Choosing the right tool plays an important role in the success of a (partial) online learning journey. Nowadays, there are enough options that are very easy to use, even for learners who are less familiar with the digital world. "Choose an accessible tool. If it is too difficult to install a new tool on a smartphone or computer, a lot of people will decide to drop out," Elke explains.
Besides that, it is very important that trainers also know how to work with it themselves: "If a trainer does not agree with the use of the tool or is unable to work with it properly, they are not going to sell it to the participants in a motivating way."
Lesson #2
Good preparation is essential
A very important lesson is that good preparation is key. This is partially connected to the previous one: if a trainer is sufficiently prepared for the online aspect, they are able to support the learners better. Getting rid of obstacles is especially crucial here.
But how do you make sure that a trainer starts off well prepared? "Give them enough time and help them from start to finish," is Ruben's answer to this. At Amelior, trainers are thoroughly introduced to the aNewSpring platform. Showing demo's and letting them enter the tool as a participant in a restricted environment are a part of this. On top of that, the organisation includes trainers in the creation of the online learning journeys.
Lesson #3
Make sure there is enough variety
Lastly, the success of the online classes also depends on the structure. Nowadays, our attention span is short. Letting learners listen to trainers for hours on end is not an effective way of teaching anymore.
Jet agrees with this statement: "When it takes too long, you go into some sort of passive mode. That is why you need to make sure there is enough alternation and interaction, even more than when a training is on location." At GITP, the day is split up in smaller parts, which never take longer than one and a half hours. Additionally, they make sure there is enough variety: they alternate between different things to do, such as virtual classrooms, working on assignments and (of course) breaks.
Bonus tips!
Interaction is essential during online classes. Without it, participants become passive and get distracted more easily. We are familiar with polls and the little hands in the chat, but how do you get them to interact in a more unique way? Thankfully, Ruben, Elke and Jet were able to answer this question as well:
Wheel of names
Make sure there is an element of surprise by incorporating a wheel of names. It can be anyone's turn to answer a question or do an assignment. The unpredictability makes participants inclined to pay more attention to class.
Breakout rooms
Split up in smaller groups and make them interact with each other. During these moments, the learners can talk about a case together or start an interesting discussion.
Return moments
Do you want to keep the class atmosphere alive, even when the training is online? Plan return moments in which everyone joins in a video call. This way, the trainer and participants are able to interact between classes or assignments.
The last wise lesson came from Elke and is about interaction: "You can't force anything, only stimulate." So, do not put too much effort in keeping everyone entertained. Instead, really focus on putting together a great learning journey.