Release 98: A fresh new look with a side of improved user experience!
04 January, 2023
| Reinier Batterink
| 4 min read
In this release, which goes live on 3 January 2023, there will be changes for learners and the backend of the platform.
This release brings together styling improvements that will deliver better learning experiences. Also, you will find out how you can instantly put together a training program that looks professional and polished. Besides that, you can see more details about events and manage them better, and keep instructors and moderators more engaged through moderating assessments.
Let's dive into the details!
Changes for learners
An easy and subtle glow up
Learners will notice small visual adjustments in the existing elements, to increase the readability and accessibility of the learning environments.
We're adding greater spacing between certain elements, such as the advice bar, activities and widgets in the learning journey. We're also resizing certain elements, especially the activities, widgets and buttons. Learners will notice some extra space on the sides of the course tiles in the mobile interface.
Changes for the backend
Transform the look & feel of your learning environment
The first of those changes has to do with the redesign of the standard look & feel editor. Customers often had to invest a lot of time into creating a good look & feel of their learning environment — there were a lot of settings allowing for flexibility but it was pretty time-consuming. In addition, the standard look & feel was set up several years back and, therefore, quite dated.
In addition to the modern visual elements and wow factors, we want to help our customers to begin with a nicely styled environment. So, all new environments will open up with a look & feel based off of one of our themes.
What are themes, you ask?
We've put together three different, predefined themes that can help you create nice looking courses easily, reducing the time needed to create your own look & feel, that fits your brand to a T! With these available within all environments, it becomes super easy to pick a theme, change colours and more at a single click of a button, since most other fields are pre-populated.
Manage events smoothly with more details about them
With this release, we are showing more useful information about the events, making it easier to manage them for each of your learners.
With this update, we are getting a little more learner-focused when it comes to events. You can see an overview of all the events a specific learner is enrolled for. Administrators can also see the course that the event is a part of.
As things stand today, you can see which learners are subscribed to an event. However, it isn't obvious the other way around. This changes with the upcoming release, enabling you to see all the events that a single learner is subscribed to. It will even be possible to unsubscribe that learner from those events.
As an administrator, this is a useful overview to manage learners when there are a lot of events within a course.
Learn more on our support site.
Nudge your moderators to take action
This update adds a few finishing touches to the moderator role that went live in our previous release cycle. These 'touches' render the feature more consistent and actionable.
First off, there are small UX related improvements. One example is a status button that is colour coded and shows moderators and instructors the remaining actions:
For moderators, a blue "Moderate" button indicates there are items to moderate. Is this button white? Then there is nothing (new) available to moderate.

For instructors, we show a count of the number of moderated assessments toward their existing counter for remaining to-do actions.
To enable moderators and instructors to perform their roles better, notifications are sent out when an assessment has to be moderated or when the instructor has made changes to the reviewed assessment. Proactively communicating these updates to them outside the learning platform helps the moderation progress faster.
In addition, these notifications also work their way into the moderator's dashboard. For instance, icons will show what still needs to be done and the 'to-do' column will be updated. This way, the moderator intuitively knows exactly what to do.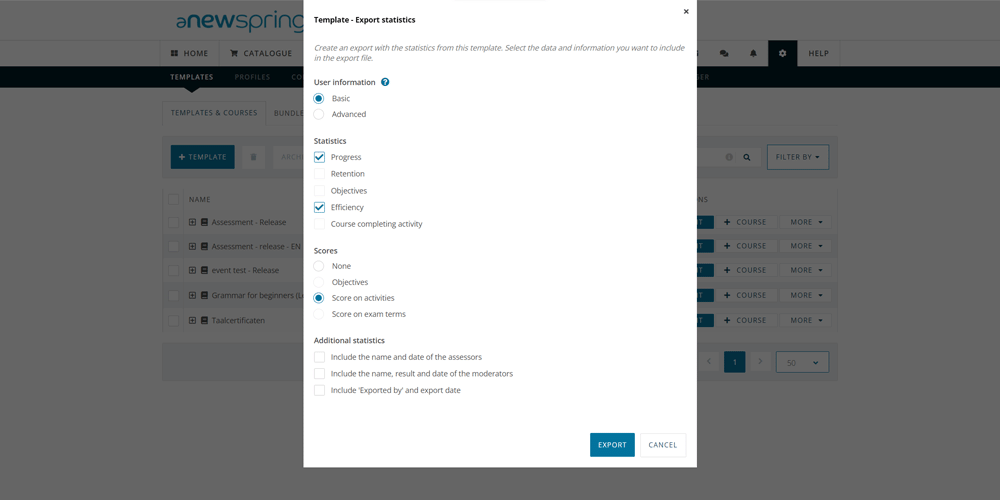 Lastly, administrators are able to export the progress and statistics of the entire moderation flow. By doing so, they are able to see how much a learner has scored on an activity, who assessed them, who moderated the assessment, and on which date the activities were completed. The data can be exported per template, per course or via the instructor dashboard. This makes it very easy to submit information to a third party stakeholder.
Learn more on our support site.
A few smaller tweaks
Moving forward, the access code option can be enabled only for those learners who are logged out, instead of having it enabled for both logged-in and logged-out learners.
We're adding the ability to archive users via the 'addOrUpdateUser' and 'updateUser' API calls. This way, you can ensure they don't use up licences unnecessarily without jumping into the learning platform each time.
Explanation for Question ID
We've heard from users that a lot of authors don't understand what the ID for questions are for. To clarify that, we added an explanation at the 'create question' step.
Ability to edit event-related emails
You can edit the contents of the email that learners receive when un-enrolling from events and when they're being transferred to another event.
Do you want to read everything we have added? Take a look at the Release Notes:
Some of these features are available for aNewSpring for Trainers and all of them for aNewSpring for Organisations.
If you have any questions regarding the release, do not hesitate to contact our Support Heroes!