Release 89: Assessment and adaptivity
11 March, 2021
| Reinier Batterink
| 4 min read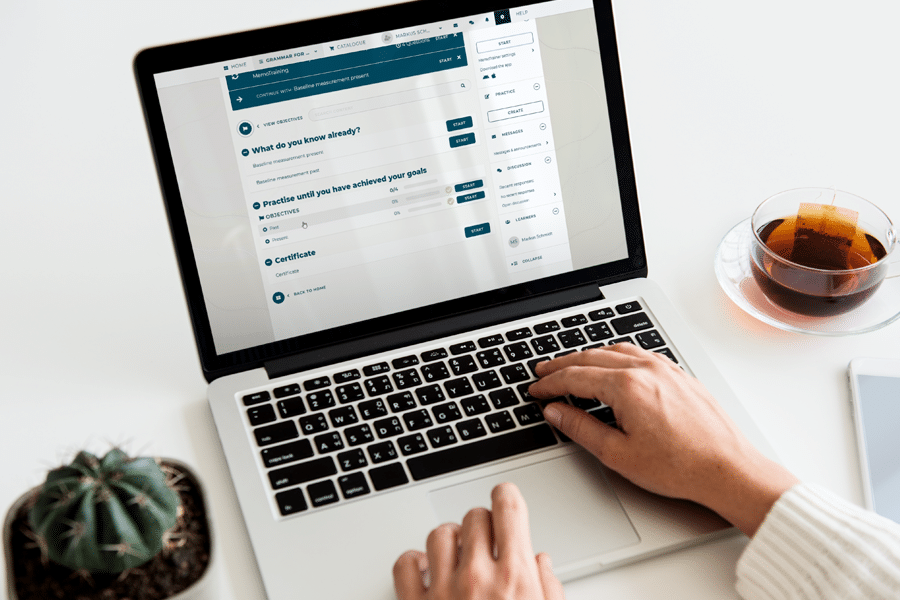 In the next release, on 16 March 2021, we will make room for adapting assessment terms, adding feedback fields and expanding adaptivity. A step in the right direction to add layers and not only focus on a final assessment. Anyway, this makes us very happy. You too? We also love feedback, so please let us know what you think!
Adapting assessment terms to you
When you assess someone, you want to assess in a way that really fits you. You would like to see your own identity as the assessor or your organisation reflected. You could do this by choosing your own colours for the failed or passed results. It doesn't have to be red or green anymore; you decide. You can also change the terms failed and passed to really reflect the assessment you have in mind.
Extra feedback fields for higher learning efficiency
We don't only look at the judgement of assessment; the road to it is just as important. An assessment can be supported by feedback. We know that participants can learn from feedback, so we have added extra feedback fields. If you use assessment criteria, then you get a feedback field for each assessment criterion so that instructors can better explain how they came to the assessment.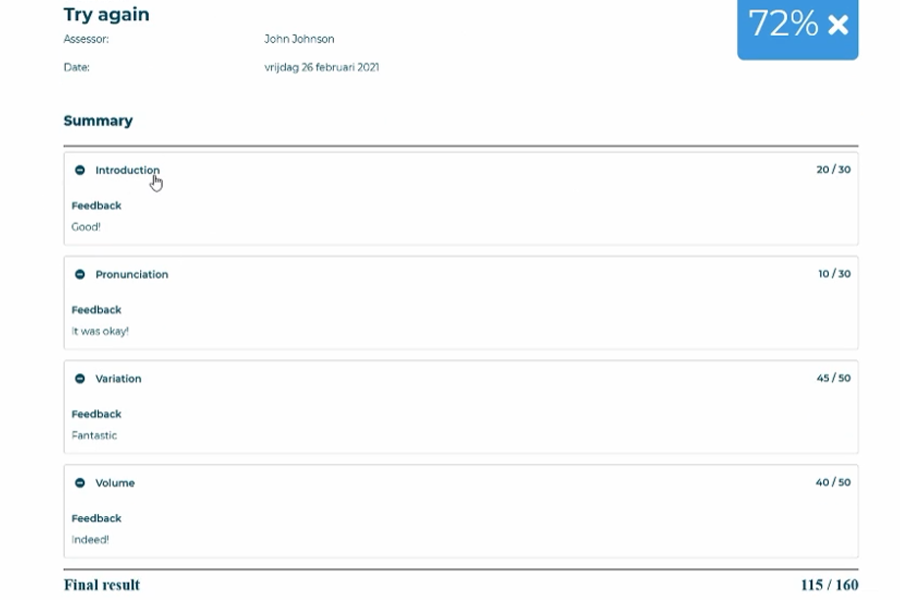 Demo
How to use feedback fields
This example will help you out.
A new look for the adaptive blocks
Offering learners a learning journey that adapts to their level, that is what our adaptivity is designed for. To make it clearer to the learners where they stand, we offer the possibility to display the adaptive blocks differently.
Whereas in the current situation the activities are central to the learning journey, the learners can now see the learning objectives and can request the activities for each objective in order to work on that specific objective.
We have also added a means to better determine the order in which learners go through an adaptive learning journey in advance. We have done this by adding new conditions at activity- and block level that are released when a certain score is achieved on one or more learning objectives. This way, learners follow a learning journey at their own pace, but in a sequence determined by you.
For example, in an organisation it could be that the learner first has to achieve the basic learning objectives in order to proceed to the expert learning objectives. The advantage of this is that learners will have achieved certain knowledge first, before moving on to the advanced content.
Integrations made simpler and faster
Integrations with aNewSpring and other systems have always been a priority for customers. It allows customers to create a learning ecosystem by combining the best tools out there. You could already use our freely available API to connect with other software tools.
To make that easier for you we've created the Integration Service. What that entails is that we can now create any integrations for you as a service. We'll also take care of updates and maintenance. The only thing you have to do to get started is to send a quick note to jeroen@anewspring.nl.
See live how aNewSpring is performing
We would like to be transparent about the availability and performance of the aNewSpring platform. With our new twitterpage we want to keep you informed about any availability interruptions and other possible performance issues of the aNewSpring platform. Stay up to date via @aNewSpring_Ping.
What else is new?
We now also offer the backend of aNewSpring in German.

The form and reflection activities may indicate an estimated duration of activity.

In the report engine it is possible to filter on the intermediate assessment of the hand-in assignment and video hand-in assignment activities.
Do you want to read everything we have added? Take a look at the Release Notes:
Some of these features are available for aNewSpring for Trainers and all of them for aNewSpring for Organisations.
If you have any questions regarding the release, do not hesitate to contact our Support Heroes!