What we found about improving your learning impact
12 December, 2022
| Ger Driesen
| 4 min read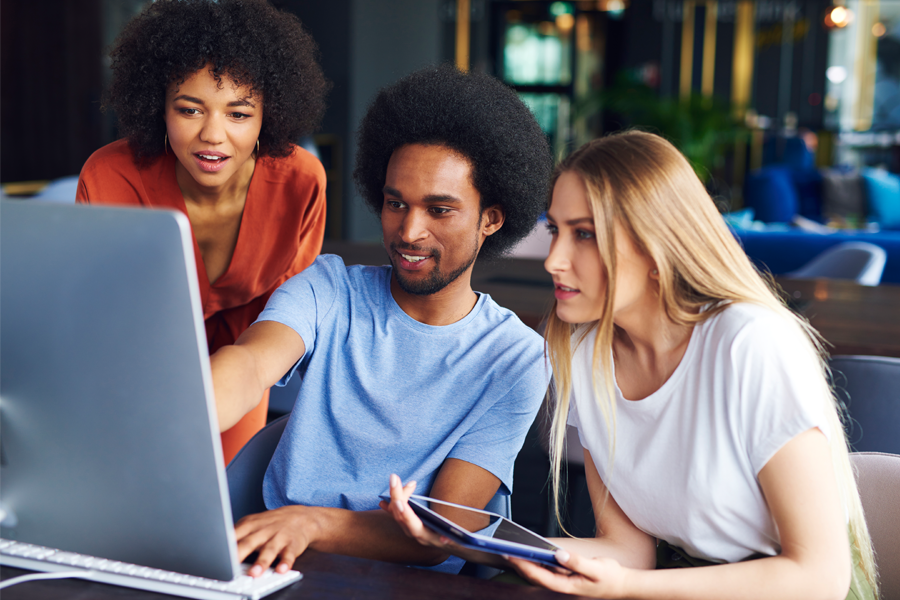 'Every day you don't get better, you get worse' is what a Japanese colleague of mine said to me many years ago. This means that if you're not improving and others are, you will fall behind. It's part of the professional mindset to find new and better ways all the time.
A good way to do so is to get inspired by others and how they raise the bar. That's why we focused on impact and continuous improvement over the last few months. A part of this was sharing approaches, examples and stories of like-minded learning professionals.
While conducting our own research project, we found out how adaptive learning can reduce study time by more than 30 percent! Read along to find out what else we discovered and hopefully, it'll be a source of inspiration. Maybe it will result in some interesting resolutions to kickstart the brand new year.
What can you do to improve learning impact?
We were curious about how starting from the learner's perspective could deliver clues for improvement. Looking back at what's already out there and seeing if we could dust off some good old stuff that can still be useful was part of that, like the 'Serious eLearning Manifesto'.
The mindset to go back to basics every once in a while and see how we can adjust what we already know in a changing environment is important, too. To focus more on getting those basics right, we introduced the term Learning Hygiene.
Of course, we were eager to know who within the community could help others with their stories. We looked for, found and shared nice examples of how practitioners in different situations created improvement via step-by-step iterative approaches. One thing became very clear through different cases: impactful training providers work hard to improve and review their work processes (supported by data). They don't only focus on the quality of their product but also on the processes that they have in place to deliver it. Learning is a process, but so are learning design and development.
Improvement can also be realised by implementing learning technology. This implementation is not always easy and works best via a clear step-by-step approach.
Why is change necessary to keep making an impact with training?
Changes are all around us. We hear a lot about technological changes and experience them in our daily lives. If we want to keep up and stay relevant in our jobs, we all have to improve ourselves.
Learning can serve that goal, but learning in itself has to evolve as well. On top of that, it has to be improved in relation to technological changes. The possibilities of adaptive learning are a nice example related to this.
Another major influence recently was the aftermath of the coronavirus pandemic. For many people, it also meant that they had to re-evaluate what the meaning and purpose of work is to them. Societal changes in how we look at work also change the way we look at workplace learning. Focusing on the gains and pains of people trying to get their jobs done every time again is a rich source for learning designers to improve their work. The Jobs-to-be-Done method is a way to approach this.
Improvement means change and change is a weird thing. Incremental changes seem to happen easily every day but larger changes need a smart approach. So, it's good to understand what the best way is to achieve improvements.
How can you benefit from our findings?
So, what did we come across and how can you benefit from what we discovered? First of all, it became clear that training providers who create (major) improvements apply a mindset of continuous improvement.
They keep their eyes and ears open to spot opportunities or necessities to become better at what they do. This is done on different levels. They are aware of changes taking place in society and related to technology. Furthermore, they are curious and always want to have access to data and analytics to uncover opportunities.
These training providers also look at their work beyond the product perspective by also looking at the process. These are being reviewed to find out where they can be improved. This is often done through a step-by-step, iterative approach. This means making big improvements by making several small changes and testing whether it works.
Another important advice is to look 'outside' more. There is so much knowledge and good practice available, so you don't have to reinvent the wheel. There is a lot of basic evidence-informed knowledge available on how learning works. Besides that, there are great examples from others where you can learn from. Training providers who are keen to improve always try to get the basics right and are open to learn from others.
What's next?
As we are approaching the end of the year, you might be thinking about New Year's resolutions. Why not think of a few nice ones focused on improvement, based on the materials that we shared with you over the recent months?
Please know, we will stick with you during the start of 2023. We are going to reflect on 2022 and preview opportunities of next year. You are invited to go on another journey with us, so don't forget to tag along by subscribing to aNewLetter!