How data about your learners help you make better decisions
18 November, 2022
| Sunanda Jayanth
| 4 min read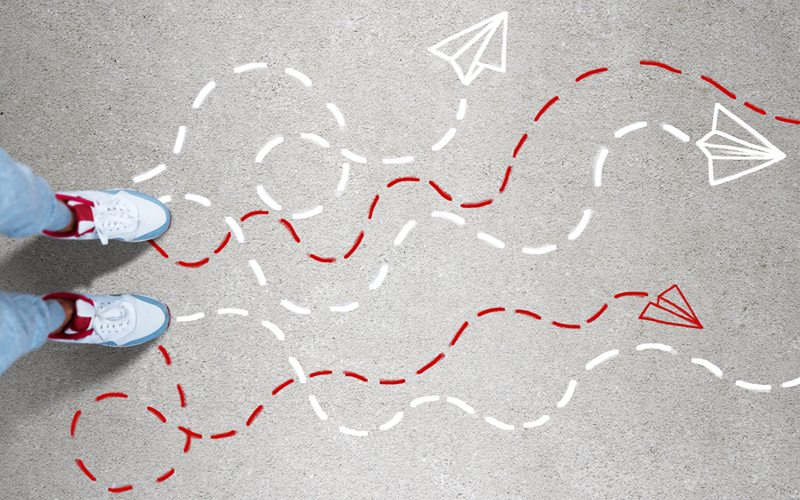 As a training business, you likely have encountered scenarios where learners reach out with questions about your upcoming training schedule. Instead of sending over a standard roster of everything that is planned, wouldn't it be better to provide them with a list of courses that they're most likely to enrol in?
Well, New Leaf Technologies, our exclusive reseller in South Africa, renders this kind of personalisation possible. They do this by bringing together all the data from the learning platform, website and CRM system. In this piece, you'll read more about how they help businesses elevate their training with a simple, yet powerful solution.
A holistic view of customers
Insights about learners make all the difference because they enable learning designers to build personalised experiences!
This is exactly what customers of New Leaf Technologies were looking for: a solution that could bring different datasets together, right from their learning platform, website, CRM and other systems they may be using within their business.
Michael Hanly, Managing Director of New Leaf Technologies, explains: "Data allows you to make critical and informed decisions. And customers are often presenting to different stakeholders — their customers. The way they were able to report data didn't always look visually appealing.
Besides that, they also needed to switch between different datasets, because they use other tools as well. When you're able to connect all that data, it starts to formulate different perspectives. And perspective is everything when you're trying to make better decisions."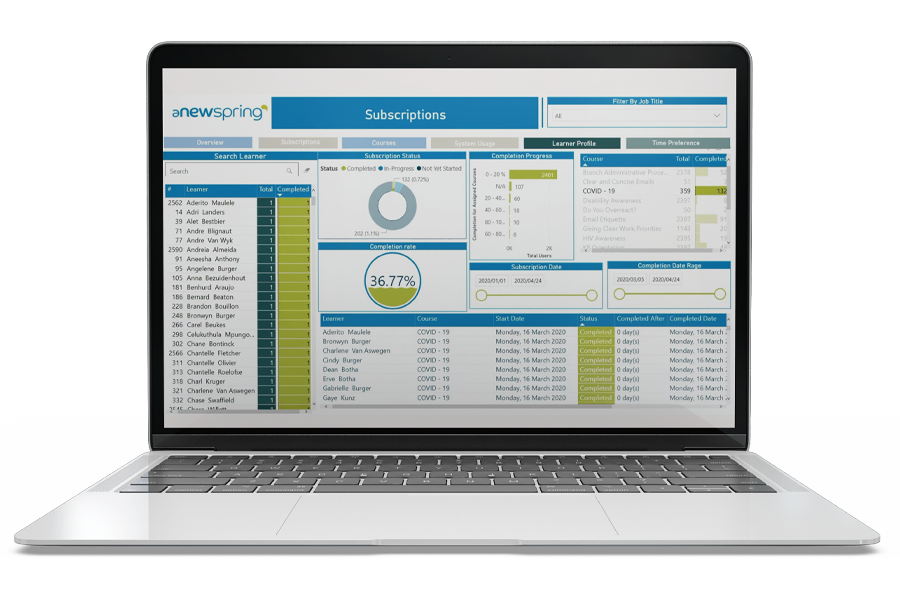 The Training Intelligent System
Integrating aNewSpring with Power BI
At aNewSpring, we know New Leaf Technologies as a very enterprising company. So, it was no surprise when they went out looking for solutions. They discovered Power BI and forged the middleware to connect to its API. Hanly and his team found a low cost approach: pull data from different sources that weren't available in the API just yet, like login times.
This formed the basis of the "Training Intelligent System", which is a step ahead from the out-of-the-box solution that Power BI offers.
New Leaf Technologies infused the Training Intelligent System into every one of their customer's environments. With this, customers could immediately see details like completion rates and progress of their learners. While a one-size-fits-all approach is never realistic when it comes to reporting, results can be tailored for different stakeholders within the business. A line manager will see a different set of indicators in comparison to a director.
Directly accessible from within aNewSpring with a customisable look and feel
Access to the dashboard is directly through aNewSpring. New Leaf Technologies embeds it as a course tile. All users have to do is click on it, and they're able to view insights in real-time with the look and feel of the dashboards differing from customer to customer. The dashboards can be completely in line with varying corporate brand guidelines and other specific wishes.
Endless possibilities
To get an idea of what's possible within the Training Intelligent System, they've created a dashboard template for customers. Included are things like time preferences, information on learners, completion rates, login variances, and more. "This is a good starting point because it shows a variety of datasets," says Hanly.
The benefits of having the data
The next step
The Training Intelligent System provides information that give customers helpful insights. What can training providers do to improve their learning journeys once they have gathered all that data?
Make informed decisions based on data
"Showcasing all relevant data into one dashboard really made it more meaningful for our customers in terms of what the data presents and what they're looking at," Hanly explains. "They can now see trends over time, either on a month-to-month or year-to-year basis. And when customers are with us for many years, we can also see how they're improving and making progress."
It also helped New Leaf Technologies to look at the entire customer journey of their customers, not just the learning journey itself.
See the preferred learning times for learners
One of the more fascinating insights according to Hanly, are the preferred learning times. "Especially from a blended learning approach, having insights into preferred learning times shows when it would be a great time for a facilitator or instructor to jump in and communicate with learners. For example, they could go through the social channels and share insights to help nurture the learning journey."
Identify the best possible learning journey
When we asked Hanly how else training providers can leverage data to improve their learning journeys, he told us about A/B testing. "In marketing, A/B testing is used frequently. They send out two emails and discover which one works best. I think we can do the same with learning. One journey could have a Word document and then a quiz, and another could have something more interactive and then a quiz. You then get two sets of data, which can be compared to see what works best for your learners.
This data can also help deliver more personalised learning experiences, making them a lot more memorable and exciting. That's very important, because I think where boredom wins, learning fails."
We, at aNewSpring, are very proud to have an innovative company like New Leaf Technologies as one of our partners. Want to know more about the Training Intelligent System? Or are you curious how this tool can help your training business? Get in touch with them here.